scroll down for english translation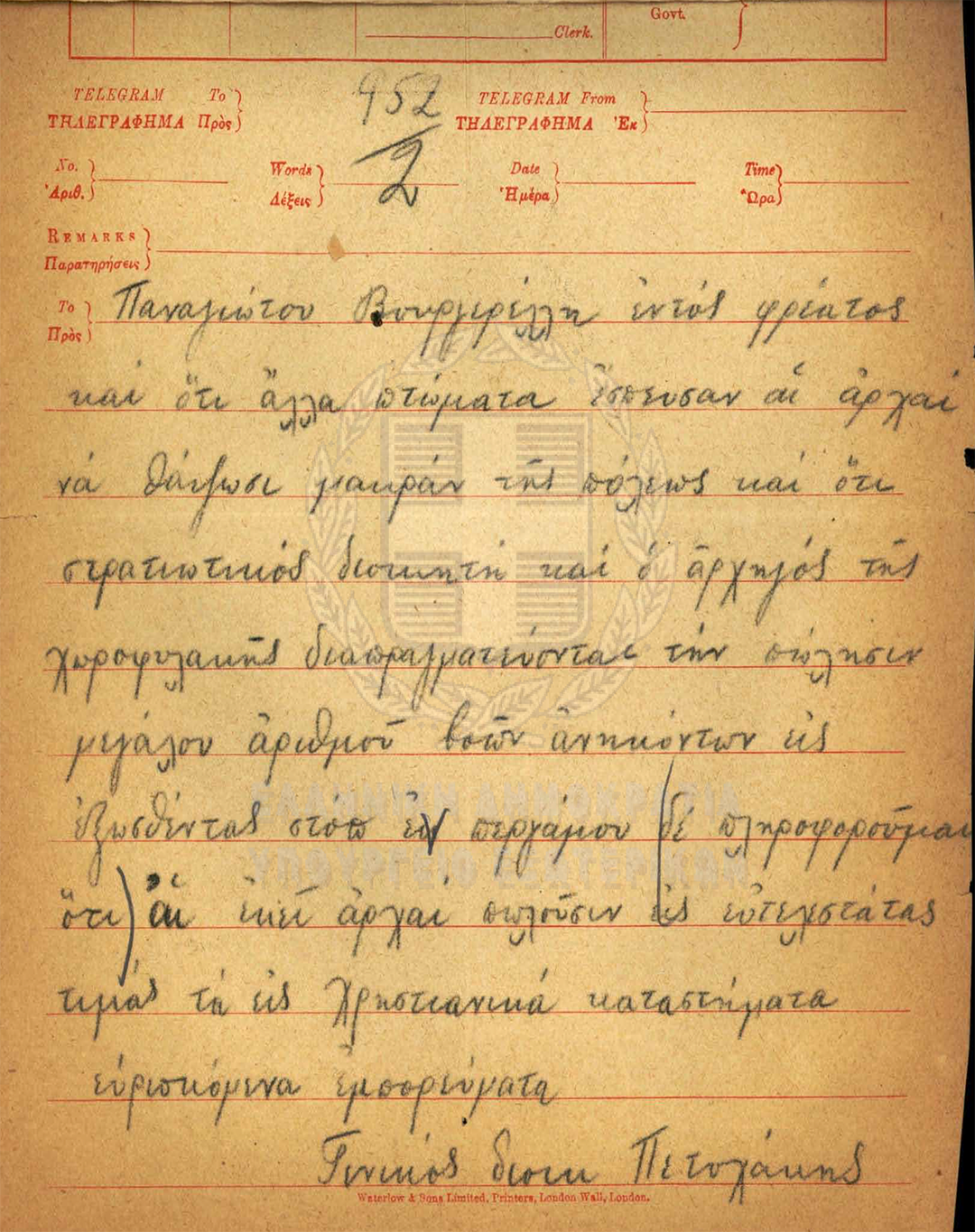 FROM: Governor General Petychakis, Mytilene
TO: Greek MFA, Athens
AFFECTED AREAS: Ayvalık, Kabakum, Balıkesir, Bergama
TELEGRAM FROM MYTILENE
30 June [13 July] 1914
Recipients: 2
Prime Minister / Minister of Internal Affairs
Our other deputy consul in Ayvalık informs me that in Kabakum Turkish refugees have been installed in the houses of Greeks, that Greek estates and fields are being handed over to the raiders, that most of the stolen animals have already been transported, some to Smyrna some to Balıkesir, that in between Ayvalık and Buradelli they found the dead body of Panayiotis Vurgerelis inside a well, and that other bodies the Authorities were quick to bury far from the city. And that the local army chief and the commander of the gendarmerie have been negotiating to sell a large number of oxen belonging to the displaced. STOP. In Bergama, I am informed, the Authorities are selling all goods found in Christian shops for a pittance.
[Governor General Petychakis]
ΤΗΛΕΓΡΑΦΗΜΑ εκ Μυτιλήνης
30 Ιουνίου [13 Ιουλίου] 1914
Αποδέκται: 2
Πρωθυπουργόν / Υπουργόν Εξωτερικών
Ημέτερος υποπρόξενος Κυδωνιών με πληροφορεί ότι και εις Καβακήμ εγκατεστάθησαν τούρκοι πρόσφυγες εις οικίας Ελλήνων, ότι Ελληνικά κτήματα παραχωρούνται υπό των αρχών εις επιδρομείς, πλείστων δε διαρπαγέντων ζώων δημευθέντα μετεφέρθησαν ήδη, άλλα εις Σμύρνη και άλλα εις Μπαλουκεσίρ / ότι μεταξύ Κυδωνίων και Μπουραντελί ανευρέθη το πτώμα Παναγιώτου Βουργερέλλη εντός φρέατος και ότι άλλα πτώματα έσπευσαν αι αρχαί να θάψωσι μακράν της πόλεως. Και ότι στρατιωτικός διοικητής και ο αρχηγός της χωροφυλακής διαπραγματεύονται την πώλησιν μεγάλου αριθμού βοών ανηκόντων εις εξωσθέντας ΣΤΟΠ
Εν Περγάμω, δε, πληροφορούμαι ότι αι εκεί αρχαί πωλούσιν εις ευτελεστάτας τιμάς τα εις Χριστιανικά καταστήματα ευρισκόμενα εμπορεύματα.
Γενικός Διοικητής Πετυχάκης